Environmental Work.
DALAGÅRD´S ENVIRONMENTAL PLAN: Green IT – and mean it!
This is a summary of our Lodge´s Environmental Plan and policy for our local profile. Please e-mail to Dalagård and you´ll receive all the environmental documents.
Goals for our Environmental work.


Dalagård is part of the family Öster´s agriculture and Forestry Company which is actively managed by the owner family. All activities must be ecologically sustainable. Our family is one of many users of this land and we want to pass it on to future generations in a good condition. The operation at Dalagård and activities with the farm as a base, will take place with the highest quality and minimal environmental impact. We want to gain the certification with the criteria of "the Nature's Best".
We will cooperate with other local companies with similar ambitions. A big step for our environmental goal is to create local development and employment. Dalagård is located in a UNESCO designated biosphere area with very high cultural and environmental values. This means both a privilege and an extra responsibility to the environment. We are local ambassadors for this project. This environmental plan is discussed and reviewed in an interaction between staff and customers.
The Journey to the Destination

Dalagård´s guests are often local businesses. We recommend travelling by carpool or bus. Long-distance travelers are recommended to go by train to Krylbo/ Avesta in combination with bus. Transport to our facility, accessibility to the  buildings and most of the activities should work even for people with reduced mobility.
The Arrangements concerning Transportation
Dalagård strives to use minimal transportation once you are on the site. We have many of our activities around the Lodge. It disturbs the experience of the quiet forest to sit in a vehicle and drive away from the area. If you do so there must be very urgent reasons for doing that. We will build bike and hiking trails around Dalagård in 2012.
Environmental Work around Dalagård
Our own forest is environmentally certified. We have allocated two formal conservation areas on our property of 22 hectares forests and land, and have three voluntary reserves. Among other things, we protected our own forest adjacent Dalagård. Our own two lakes have prohibitions against boats with gasoline engines. Depth chart for fishing and environmental work has been made and can be borrowed by customers. Water Authorities and the County Administrative Board of Dalarna tests water in our lakes regularly. The samples are taken both at the source to our lakes in Svedjeån (SE667855-152 224,) and the outflow through the western parts of the stream of Västanberg (SE667949-152453). The results show that the ecological status of the  water is good. The results are presented in WISS (Water Information System for Sweden) We are positive to participation in various local environmental projects.
Build, Live and Sleep Environmentally Right and Safe
Our guests stay at Dalagård. Bedding and other furnishings should be a maximum of environmentally friendliness and are washed locally with environmentally friendly detergents. Dalagård is a facility that is newly built and a maximum of environmental friendliness for the building, which in short means;
First: The construction has been made using an ecological and an economical perspective (to obtain long life and thereby reduce the environmental impact)
Second: The construction should be made with local traditions and respect for our cultural history in Dalecarlia. Third: The construction should be carried out by local craftsmen to preserve local knowledge and reducing travel 4th: The construction should be done with minimal environmental impact and nature be restored after construction.
5th: The construction should take place with old proven technology with true natural materials like stone, wood, brick, and flax. It should be easy to repair in the future with low environmental impact.
6th: All the timber was taken from our own and environmentally certified forest and sawn locally to reduce transportation pollution.
7th: Colors should be old-fashioned and tested,  as linseed oil, egg tempera and tar.
8th: Dalagård should be well insulated, both above and below, in order to have sound and well-ventilated walls that breathe to reduce allergies and other related problems.
9th: Heating is done with a geothermal heat pump to reduce energy consumption, and wood. The facility also functions if we get long power cuts.
10th: The sewage plant is brand new, modern and has good capacity
11th: We have dual water supply, both a natural source in the forest and a drilled well. Water samples are taken continuously.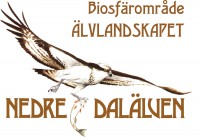 Dalagård is classified as "safe house"
According to a system of certification that includes reviewing and monitoring the fire protection, electrical system and so on. Fire inspections are made by the authority;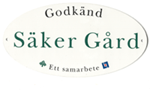 o All electricity is newly installed in 2010 and the purchase of electricity is according to "green environmental choice".
o All light fittings are of an approved type.
o Fluorescent Luminaries are sealed and have stainless steel buckles.
o All light bulbs have protective glass.
o All electrical cables are permanently attached.
o Switches and socket are of the latest model and function.
o All switchboards, electrical equipment and electric motors are clean from dust and debris.
o All electrical equipment is connected via the 14  different RCD.
o Halogen lamps are mounted heat-resistantly.
o Power distribution units outside and in the garage is made of metal.
o Computers and alarms have lightning protection and surge protection.
o Reserve power exists and is reported to Vattenfall and ready to connect.
o We have 12  extinguishers (6-12 kg. Most of them are with powder / 2 are with foam).
o The fire extinguisher pressure is checked every year and replaced if it is too low.
o Dalagård has 12 Smoke detect alarms in every relevant place.
o Dalagård  also has an electronic alarm system linked to the siren and Securitas.
o Gas cylinders are stored in the garage (we have only the usual P11 tubes), with signs on the wall.
o Replacement Fuel is stored in the garage.
o Fire Blankets are available on relevant sites.
o Rescue Ladders are available in all bedrooms upstairs.
Cook and eat Food
We take as much groceries,  flowers and vegetables as possible from our own farm garden or buy locally produced. We also have several talented food suppliers in the immediate area which we interact with. • Dalagård is certified food handler and safety rated food handler. This means that we have a well working management of both cold and hot food. We have various kinds of self control, including HACCP (Hazard Analysis and Critical Control Points).
• We have our own professional kitchen and prefer using local products without packaging (when possible) to reduce waste.
• We have no environmentally harmful products in our food handling.
• We replace bottled water with its own spring water. Dalagård is fully licensed for private parties and try to offer locally produced non-alcoholic beverages.
• Extensive sorting of waste is done in interaction with customers at our own facility. We strive for minimize waste. We compost waste in your own warm compost for soil recovery.
Supplies and Equipment
 • We never use disposable cutlery and plates.
• We mainly use soap as a cleaning agent.
• Environmentally friendly toilet paper and soap are proffered. Hand soap is kept in refill holders to avoid packaging.
• We hand in all forms of environmentally damaging products.
• Bed linen and towels are eco-labeled.
• When purchasing new or making investments we purchase the environmentally good products.
Chemicals and Fuels
Dalagård try to limit the use of fossil fuels. When it seldom used, it shall be of the least environmentally damaging type.
• Paraffin can be used in lamps.
• Gasoline is needed for the reserve power, but this is used sparsely. Mowing is done only sparingly and on a minimal surface.
• Our fishing boats are banned to use petrol engines in our lakes. In the larger streams we use 4-stroke engines of eco-friendly type and petrol sparingly.
Inform, Use, and set Requirements for the guest
All guests are informed about both safety and environmental work at the farm. Also what is expected to be done by the guests. This is appreciated.
Marketing and Administration
We produce a simple leaflet every year printed on environmental paper by an environmentally certified printing company. Most emphasis is made on our website where we link to and fro other websites.  We always emphasize that at trade fairs and meetings.
Development work in the Environmental Field
Cecilia Öster is an environmental coordinator for Dalagård and feel an extra responsibility for the ongoing development of the environmental work. Right now we are reviewing the certification of our forest management according to FSC (now it is certified acc. PEFC). We are planning to make special nature trails on environmental issues. We have had and want to develop courses for immigrants about the right of public access, forest management and environmental issues. We will carry out regular environmental audits, which will end up in dates when the improvements should be done.